the best Baltic herring products of the year announced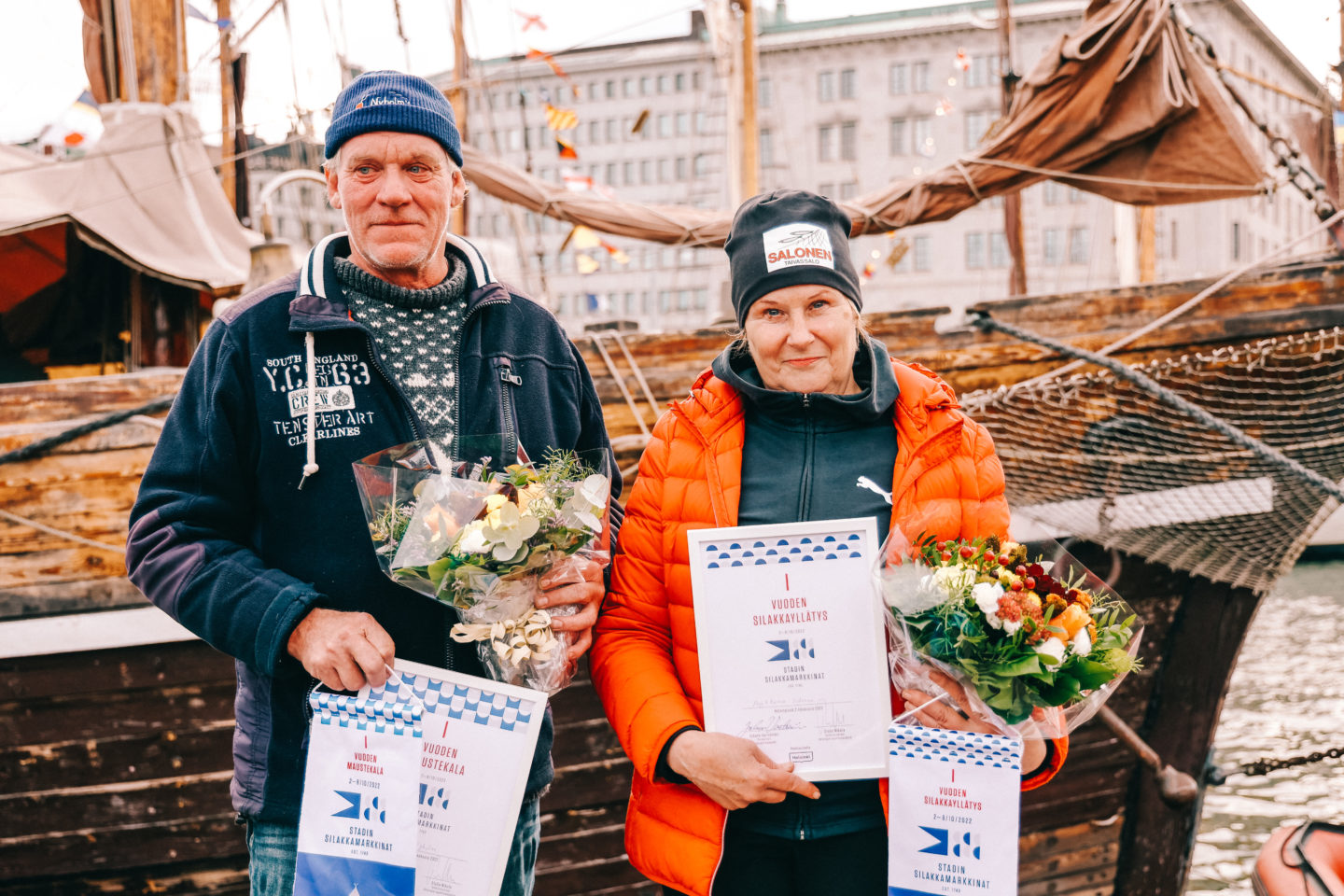 As is tradition, a panel of judges met on the opening day of the Helsinki Baltic Herring Market to award the best products of the year. The winners come from Tirmo and Taivassalo.
The panel, which has been meeting with different members since the 1970s, selects the three best products from the Helsinki Baltic Herring Market in the categories Pickled Fish of the Year and Baltic Herring Surprise of the Year. The panel rates the products on their taste, appearance, smell and texture.
The winner of the Pickled Fish of the Year category was Magnus Nyholm from Tirmo. The second prize went to Leif and Gerd Bergman from Geta in the Åland Islands, while Jörgen and Johanna Kellgren from Pellinki came third. When rating the produce, the judges paid special attention to the nuances of taste and mouthfeel.
The winner in the Baltic Herring Surprise of the Year category was the Baltic herring in a dill sauce made by Pirjo and Reima Salonen from Taivassalo. The judges were impressed by its beautiful presentation and fresh, peppery and balanced taste. Krister Hellström from Degerby in Inkoo placed second with his chilli-pickled Baltic herring, and Liisa Vainio's cobbler's salmon from Taivassalo took the third prize. All the award-winning products are available at the vendors' stalls.
The panel of judges was comprised of professionals from the food and fishing industries, as well as Baltic herring aficionados. The members were Deputy Mayor Daniel Sazonov, Fisheries Biologist Malin Lönnroth from the Federation of Finnish Fisheries Associations, Benjamin Skwarek from the Helsinki Youth Council, Executive Director of the Swedish Cultural Foundation in Finland Sören Lillkung, Marjukka Mikkola from the Uusimaa Martha District Association, Senior Specialist Elina Ovaskainen from the Finnish Ministry of Agriculture and Forestry, Journalist Jonas von Wendt from the Hufvudstadsbladet newspaper, Head Chef of Finlandia Hall Mika Jokela and Specialist of Food and Home Economics Viivi Maskulin.
"The level of ambition, passion and skill was incredibly high. Some participants sought to refine tried and tested classics while others aimed to create something completely original – exactly the way it works in all creative industries," said Sören Lillkung, who chaired the panel.
The Helsinki Baltic Herring Market will be open in the Market Square until Saturday, 8 October, after which it will host the Traditional Sailing Ship Day on Sunday, 9 October.