Helsinki Baltic Herring Market's best products have been selected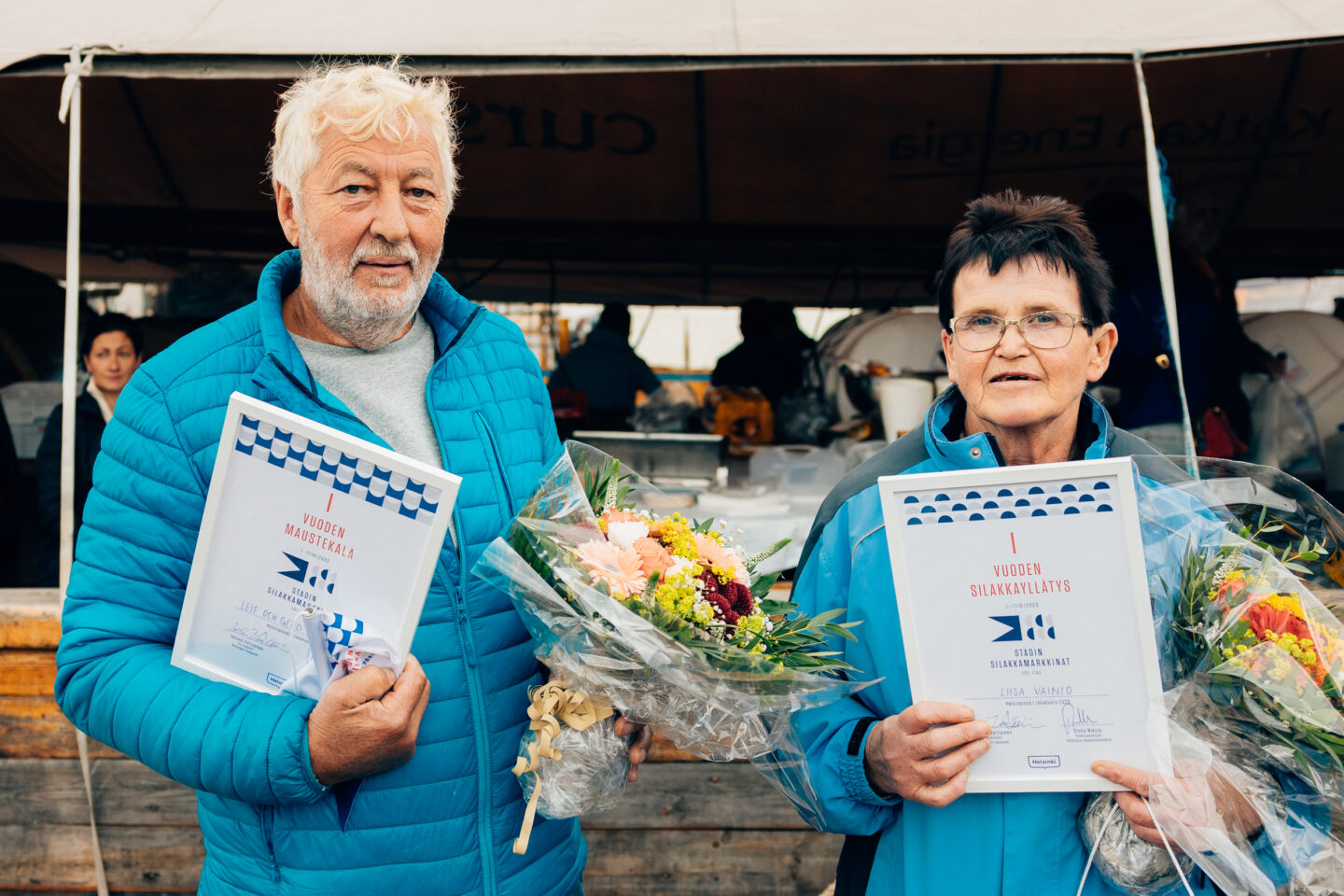 As is tradition, a panel of judges consisting of fish food enthusiasts gathered on the opening day of the Helsinki Baltic Herring Market to select the Market's best fish products. The winners were Liisa Vainio from Taivassalo and Leif och Gerd Bergman from Geta, Åland.
Since the 1970s, a panel of judges with changing members has selected the three best products in two categories at the Helsinki Baltic Herring Market. This year, there were 7 products in the Pickled Fish of the Year category and 14 products in the Baltic Herring Surprise of the Year category for cold Baltic herring products. The panel rated the products based on taste, appearance, smell and texture.
In the Herring Surprise series, the winner was announced as Liisa Vainio's Herkkusilakka from Taivassalo. The jury was impressed by its classic and fresh taste. The second place in the series was awarded to Johanna Kellgren's Lemon Herring from Pellinki, and the third place went to Pirjo and Reima Salonen's Dill Herring from Taivassalo.
The winner of the Pickled Fish of the Year category was Leif och Gerd Bergman from Geta, Åland. The second prize went to Pirjo and Reima Salonen from Taivassalo, while Magnus Nyholm from Tirmo came in third. When rating the products, the judges paid special attention to the nuances of flavour and mouthfeel. All the award-winning products are available at the vendors' stalls as long as the products last.
The panel of judges consists of Mia Hafrén, President of the Martha – Finlands svenska Marthaförbund r.f. association, Jonna Hurskainen, Head of Production at Helsinki Biennial, Pieta Jarva, Strategic Director at Baltic Sea Action Group, Jyrki Lappalainen, University of Helsinki's Baltic Sea Expert, Miro Maaranen, member of the Helsinki Youth Council, Esa Nikunen, Director General of the Environment Services of the City of Helsinki, Minttu Perttula, Project Manager of the Helsinki Maritime Strategy, restauranteur Ville Relander, Noora Shingler, journalist, responsibility influencer, Baltic Sea activist and social media publicist at the John Nurminen Foundation, Deputy Mayor Anni Sinnemäki and Petra Tuominen, Food Editor at MTV3.

"The panel's work was enthusiastic, and we got to experience a variety of interesting flavors – traditional and surprising new tastes. The discussion was lively as we got to explore the nuances of the different flavors. Appearance and texture also mattered", explains Mia Hafrén, chair of the panel of judges.